Better Best Business Expo, Connectors, OC connectors, OC Mixer, OC Expo, OC Major Expo, Largest Expo, Orange County's Mixer, Orange County's Expo, Major Expo, OC Major Event, Orange County Business Mixer, Orange County Business Expo, RBN Expo, Largest Business Mixer, Largest Business Expo, OC Main Events, Orange County Business Events, Best Networking, Best OC Networking, as listed in Orange County Register, Easy OC, Local HB, In the Calendar, Exhibitors, Restaurants, combination of many OC chambers of commerce, OC Networking Group, Best Networking, Best Business Networking, OC Networkers, Orange County Networkers, Yacht Mixer, Evening Mixers, linkedinoc , linkedin oc, Yacht Mixer, Luxury Yacht Mixer, Fastest Growing Networking Group Orange County, bigger, better, best, expo, OC, Orange County, Chamber, OC Chamber, Best Networking, Orange County Chamber of Commerce, OC Chamber of Commerce, Network after work, Best Chamber, Biggest Networking, Largest Events, Largest Expo, Many chambers in one, largest Meetup, OC Meetup


RBN is a "FREE STYLE" Networking Group
No Mandatory Attendance, No Restrictions & No Penalties!

Join RBN this month with NO ANNUAL RENEWALS, PLUS

$200 Off Membership and 2 Free Tickets to the
RBN Luxury Yacht Mixer on December 5 (Total $350 of Savings!)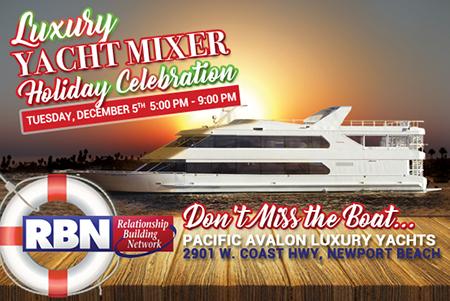 Date & Time

Venue & Program

Tuesday, December 5

5 pm to 9 pm

RBN Annual Signature
Business Networking Cruise

RBN Luxury Yacht Business Mixer
& Holiday Celebrations!





You Yachta Be There!



$20 Off Each Ticket,
if Purchased This Week!



$100 Off Exhibit Tables,
if Booked This Week!



CLICK HERE to see the Video

Purchase
Your Tickets
This Week
and Save
$20 Per Ticket

Wednesday, November 29

11 am to
1:30 pm

RBN Regional & Featured
Business Networking Luncheon

Special Year-End Admission of
Only $30 for Guests & Non-Members!



3333 Bristol St, Costa Mesa, CA 92626South Coast Plaza

Come and Discover
How Much Fun & Productive
This Networking Program is!



Great Venue, Special Program,
& Lots of Networking!



If you like, you can now Pay
ON LINE
So you don't
have to pay
Standing
IN LINE

FREE PARKING

Friday,
December 15

11 am
to 1 pm

RBN's "Get to Know You Better,
so we can refer you more Business "
Power Networking Luncheon

This is an Excellent Forum where
we get to know you and your
business better, so we can refer
you to those who can use your
Products & Services!



Free Parking

Wednesday, December 20

11 am to
1:30 pm


FREE
Display
Tables for
RBN
Members


RBN's Last Event of 2017

Holiday Celebrations with
Champaign and Cheers!



South County's Largest Once a Month
Business Networking Luncheon


DO NOT MISS THIS EVENT!

MEET & NETWORK WITH MANY BUSINESS PROFESSIONALS!



Great Venue, Food &
Lots of Networking!



26200 Country Club Drive
Mission Viejo (I-5 & OSO)

FREE PARKING



We do not claim to be the best... Our members do!






RBN Membership is a "One Time" investment and
there are no renewals or hidden fees!

RBN is now over 3,000 Members Strong and
has served the Southern California Business
Community for more than 20 Years!
LET US SERVE YOU TOO!

Join RBN this month with NO ANNUAL RENEWALS, PLUS

$200 Off Membership and 2 Free Tickets to the
RBN Luxury Yacht Mixer on December 5 (Total $350 of Savings!)

You can now also select an option to start your RBN Membership
with only a $95 Deposit and the balance in 2 or 3 monthly payments.