UPCOMING RBN MAJOR 2020 EXPO & MIXER!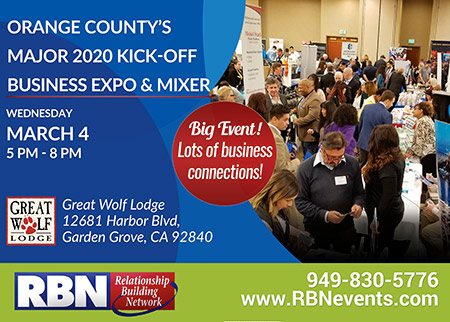 Out of 120 Exhibit Tables, Only 2 are Available!

Book Your Table Today and SAVE $100






To Attend the Expo:
All-Inclusive: $20 at the door
Or Only $15 Online

Your Admission includes your Parking, All the Great Food
You Can Eat and All Qualified Prospects You Can Meet!






Below is the Roster of RBN Expo Sponsors and Exhibitors
as of February 1, 2020

Company Name, Table Number

Advanced Litho Printing,905
AFLAC,301
Aha Image Studios,910
All-In Productions Casino Rentals,901
Arbonne International,211
Arvee Robinson International LLC,903
Back Bay Conf. Center/Irvine Lanes,9000
Banc of California,921
Boomers Irvine,9500
Bountiful Health,909
Business Group Resources,307
BusinessWhitt,105
Cafe Rio Mexican Grill
Carolina's Italian Restaurant
CD Wellness Biz,501
Charity Swipes,902
Chef Marla McGee, Inc.
City of Garden Grove,411
Clever Computer,303
Coastal Naturopathic Wellness,908
Continuity Care Home Nurses,409
Cosmetic and Restorative Dentistry,311
County of Orange,104
Creative2Unique Entertainment,3000
Crown Associate Consulting Group,114
Cruise Planners,111
Darya Restaurant,918
DELARMAN INC.,919
DJ Deon
EATS BBQ,8000
Edward Jones,506
Elephant Signage & Display,912
Eviction Professionals,404
Executive Element,507
FACCOC,907
FitLine,204
Fred's Mexican Cafe,1000
Garden Grove Chamber of Commerce,410
Golden Arrow Promotions,906
Goodwill of Orange County,109
Great Wolf Lodge
Group ISO Merchant Card Services,502
HelloFresh,106
Herbie The House Hunter,414
Integrity Jewelers,401
IT Innovators,202
JuicePlus+ Sales Coordinator,308
KTimeHR,207
La Fiesta Catering & Events,4000
LegalShield,101
LegalShield,402
loanDepot,210
Lock-Tech,504
Marie Callender's,5000
MIB,110
Msos Food Chamistry
Nova Kitchen & Bar,6000
Nulife VENTURES,505
OC Consulting Coaching & Training,310
OC Wellness Consulting,205
One Touch Lending,309
OneClick Commercial Funding,312
OPTAVIA,412
Options for Life,302
Pacific Coast Realty,214
Paris Baguette
Parker Law Offices,403
Paylocity,213
Performance Strategies, Inc.
PHYSX Promotions, Inc.,503
Pied Piper Online Marketing Agency,914
Rancho Vista Mortgage,512
RE/MAX Premier Realty,313
Reflections Video Productions,913
REI Jet,917
Relationship Building Network,911
Revolution Financial - VWGG,203
Sabrosol Mexican Grill,7000
Saddleback Windows and Doors,407
Search Owls,108
Servcorp,306
Side Gig Opportunity,408
SoCalVAhomes,208
Sparkling Events by Design,2000
Spiritual Advisor,510
SRP & Associates,514
Stamp It Approved,904
Storage West,107
Success Center, Inc.,924
Success Center, Inc.,925
Surf City Taxes,405
Swiss Bionic Solutions,926
Syntactics Sales Scripting,305
TDF Financial,212
TFG Financial,413
The Center for Autism,112
The Pie Hole
The Promo Source,304
THETAGNETWORK,915
tjg Technical Signs,916
Touchstone Crystal by Swarovski,314
Uforia DNA Designer Nutrition,509
United Financial Freedom,206
United Health Care,406
Vadeal Print,920
Virtual Financial Group,513
Vitae Tax,923
World Famous Travel,209



The RBN Major 2019 Business EXPO
Held on October of 2019 was a Great Success!



To see the Photos in Facebook, please CLICK HERE

To see the Photos in Dropbox, please CLICK HERE

Our Next OC Major Expo: March 4, 2020




RBN Annual 2019 Luxury Yacht Business Mixer and Cruise
Held on June 4 of 2019, was a Great Success!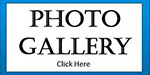 Join RBN Now and Enjoy all the Benefits
of this Large OC Networking Group.

Annual Renewal Fee of Only $25 a year
No Restrictions and No Exclusivity
No Rules and No Penalties
Attend events as your time permit
RBN Web site Directory Listing
Communicate with 3,000+ Members
Free Table Displays at RBN Luncheons
And So Much More!

This Month's Special RBN Membership Offer:
$200 Discount and Free Expo Exhibit Package!



FREE EVENT:

If you are not a member of RBN and would like to evaluate the
benefits of this Dynamic OC Network & learn if RBN is a right fit
for you and your business, you are welcome to attend
the RBN Orientation& Power Networking Education.

This event is Free for our Valued Guests & Non-Members!

Beverages will be served.

You will also receive a roster of all attendees with their contact
info, so you can follow up with them for potential new business!



Join the Largest Networking Group in Southern California
with Over 3,000 Members & Over 24 Years in the Making!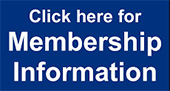 Welcome to Orange County's Premier Business Networking Group

RBN is one of the largest & most active business networking
groups in Southern California. We have proudly served
over 25,000 business professionals since 1995.

Our mission is to provide you and your company with effective
business networking sessions, innovative marketing programs and
educational networking tools to promote and grow your business.

RBN focuses on the unique individual needs of its members.
Our most important relationships are the ones we help
you build with other business owners.



We do not claim to be the Best... Our Members Do!

To be added to our email invitation list:




RBN is a "FREE STYLE" Networking Group

Please Listen to this One Minute RBN Audio